Flexible, Affordable Office Space in Destin
that Adjusts to Meet Your Business' Needs
There is no doubt that the office landscape is changing. Hybrid and remote work have become the norm as we surface on the other side of the pandemic. This means businesses of all size are seeking flexibility in their commercial office space. Businesses still need a professional office space to accommodate small teams, conduct in-person meetings and use an address for hanging their shingle.
What savvy businesses are seeking is more flexibility and affordability so they can rapidly respond to changes in the economy, their workforce's preferences, and their business's growth.
The coworking model offers solutions for businesses of every size.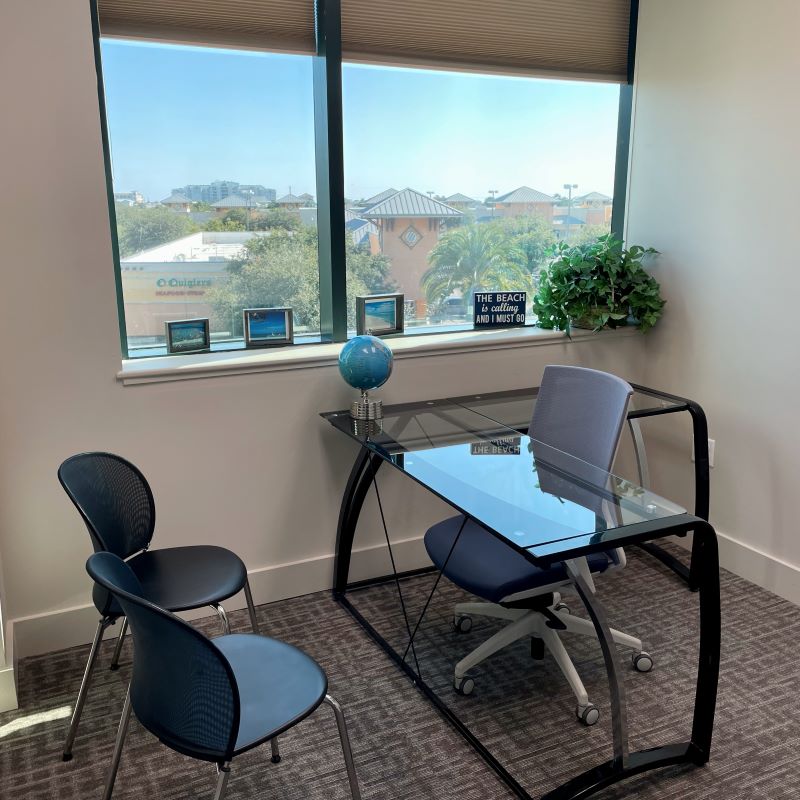 We're excited to host you!
Share more information about your meeting requirements and a Beachworx concierge will contact you within one business day.
Private offices, when available, may be rented by the half day or day.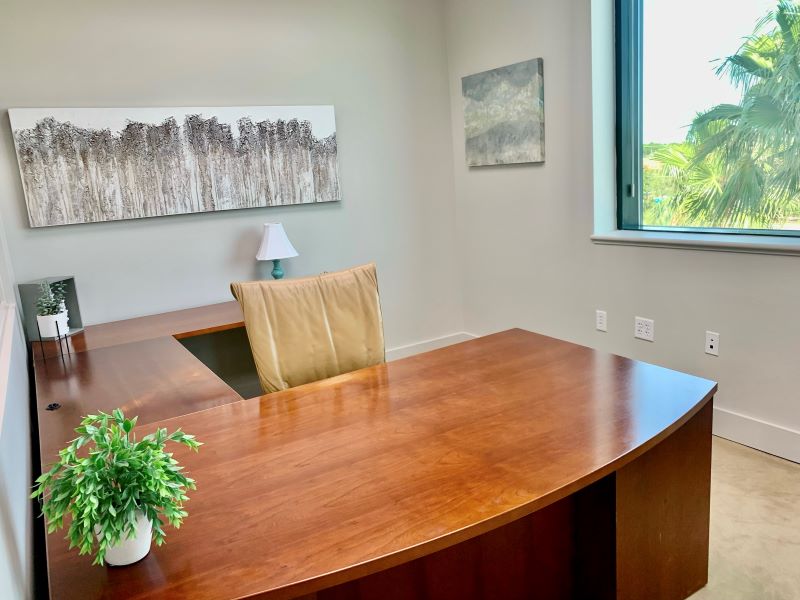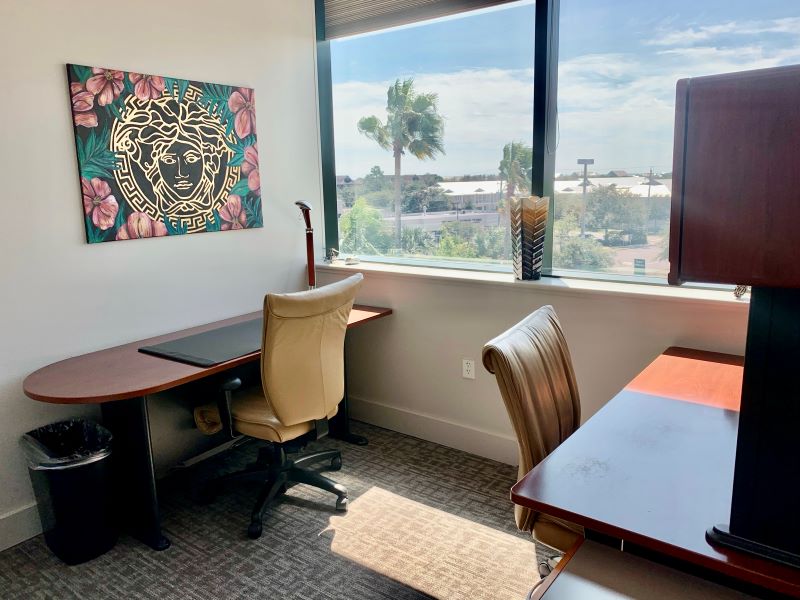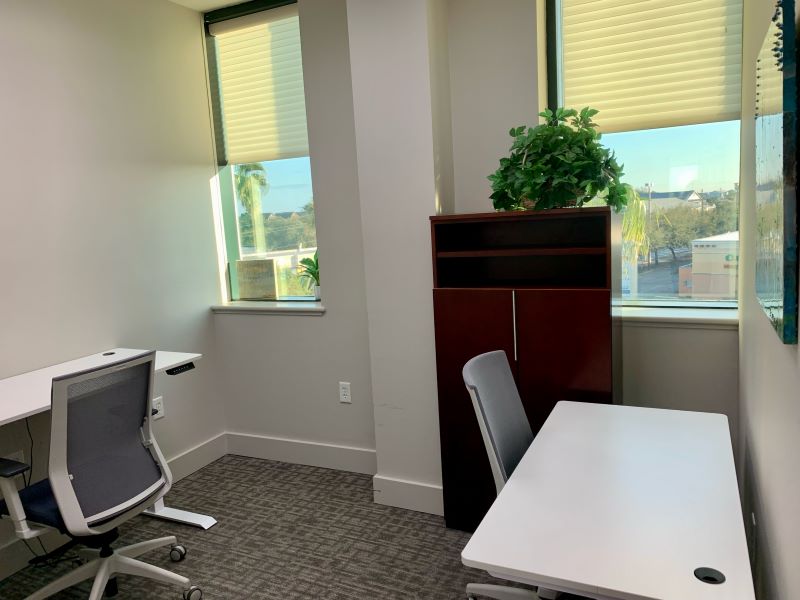 What is Coworking?
The coworking model is a blend of furnished private offices, open-concept collaborative space featuring hot desks, high tops with seating for groups, conference rooms, privacy booths and soft seating. This design encourages collaboration, connectivity, and head-down self-directed work, which are aspects of any typical day at the office.
The coworking space features familiar amenities of any professional office space – reliable wifi, meeting rooms, kitchenette, print room, receptionist, mail and package delivery. Because of its similarity to any professional office space, coworking appeals to a variety of professionals.
Established businesses looking to save money and have flexibility from traditional lease terms find coworking a valuable alternative. Commercial leases generally require three-to-five-year terms and consist of base rent plus the additional costs of utilities, taxes and common area maintenance. Then there are the costs of furnishing and decorating a space.
Coworking memberships at Beachworx initiate on a month-to-month basis, include a furnished space and may be cancelled with a month's notice. No other professional workspace option is as flexible or affordable, all costs considered.
Coworking memberships can be customized to suit any business's staffing needs. This can include private offices for executives and hot desk options for support staff and outside sales teams who infrequently work in the office.
Solopreneurs and entrepreneurs find coworking spaces a welcome alternative to working from home or meeting clients in a coffee shop – no matter how infrequent the need. Beachworx's flexibility offers options to access the space by the hour for conference room rentals or to work in the coworking space with a day pass. Pre-paid packages offering discounted passes and credits that do not expire are a great way to try coworking without a membership commitment.
Advantages of a Coworking Community in Destin
At the heart of Beachworx is a community of like-minded professionals who value hard work and success. A coworking community is a natural hive of B2B referral activity. People make connections at the water cooler and by attending sponsored networking events, some of which are exclusive for members and others that are open to the public.
Our members do business together, make referrals to each other, use each other's services and products, and have partnered in joint ventures – some resulting in six and seven figure deals.
Beachworx is also a place where peer mentorship happens organically because our community members are each in various stages of their business' life cycle. This community also becomes a place for informal research and development, providing critical insight and feedback on your product or service.
This kind of networking and support requires thoughtful design for the average professional, but at Beachworx it's just another day at the office.
Perks of Renting a Private Office in a Coworking Space in Destin
Flexibility. Long term leases restrict your business' ability to respond to change.
Customization. With a variety of products that can be assembled in a customized offering, Beachworx delivers a superior package that meets your business's unique needs.
Community. Success is contagious. Join a community of people who value hard work, connection and care for others.
Nowhere else offers access to a beautiful, thoughtfully designed professional environment for such a reasonable price.
Join a community that cares about and supports your success. We'll thoughtfully design a flexible, affordable solution that suits your business's unique needs.