Coworking Office Space for Rent
We're excited to have you!
Simply fill out your basic info and we'll get back to you in 1 business day or less.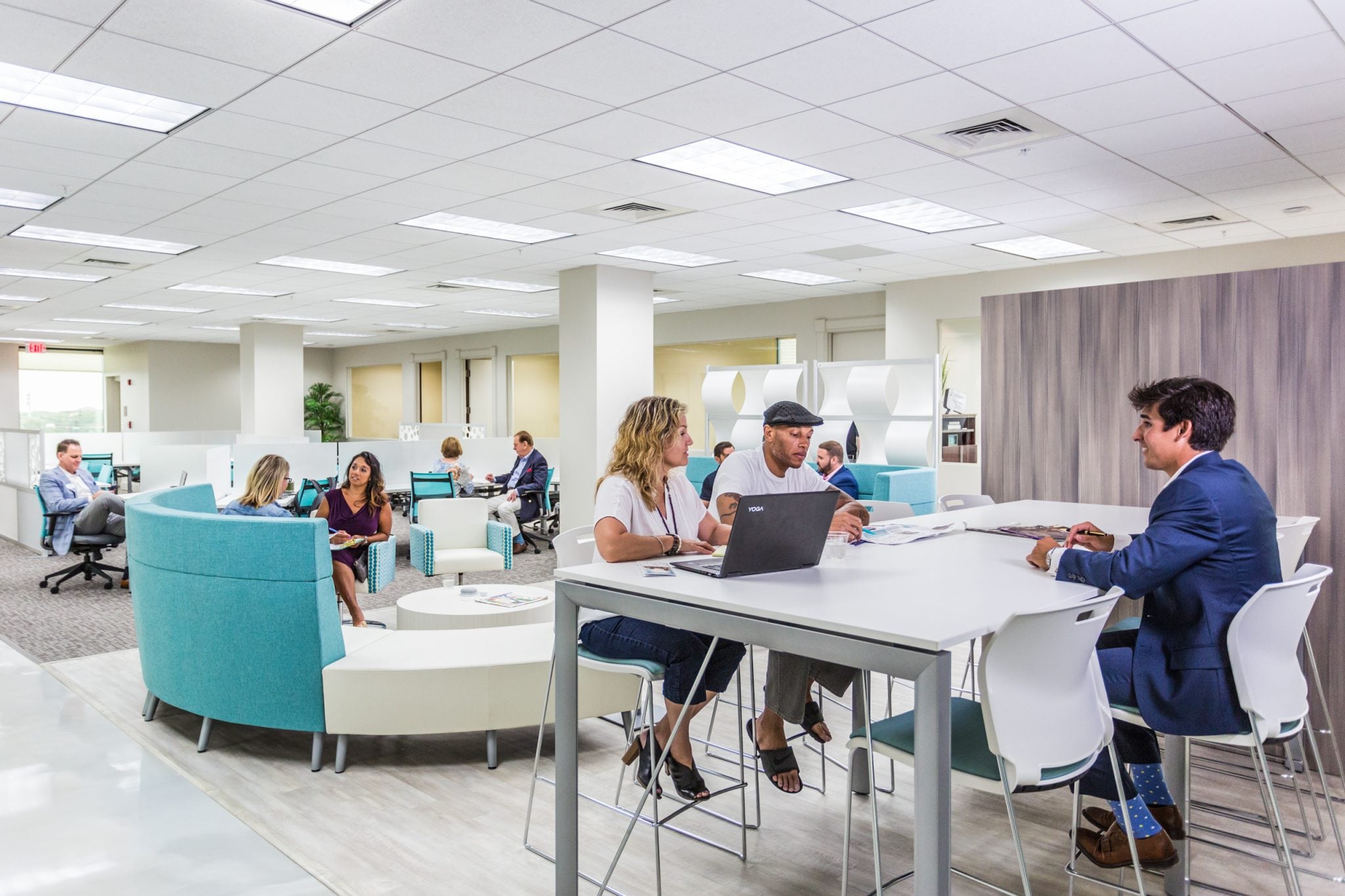 New Member Spotlight
Get your business featured on our social media channels and our member directory. As a new member, we will help you to increase your exposure and introduce you to our existing members.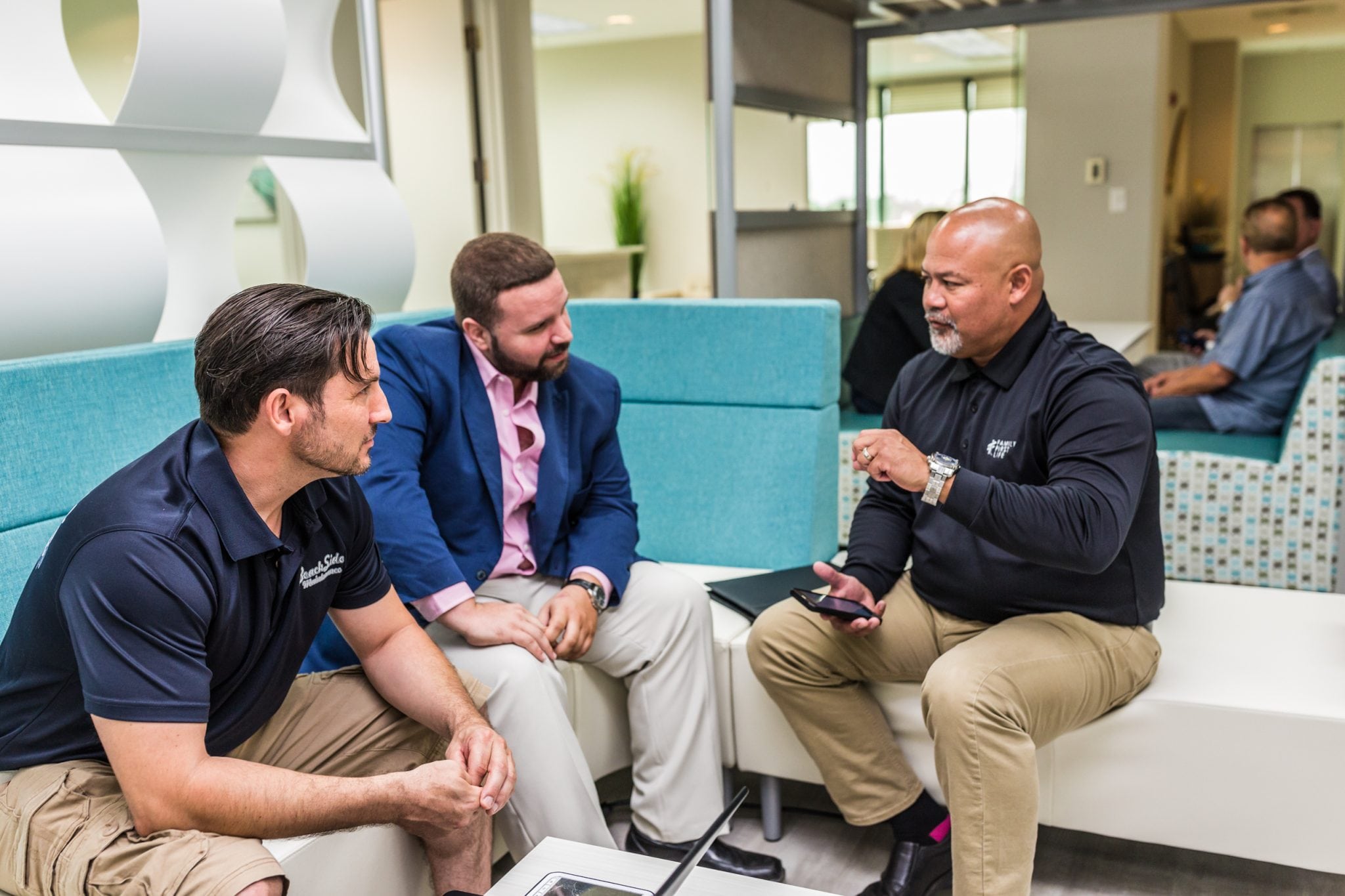 Use of The Hub
The Hub is a space used for having lunch and casual meetings between members, an area to connect and grow outside of regular client meetings. Relax in this space with a cup of coffee or read the paper.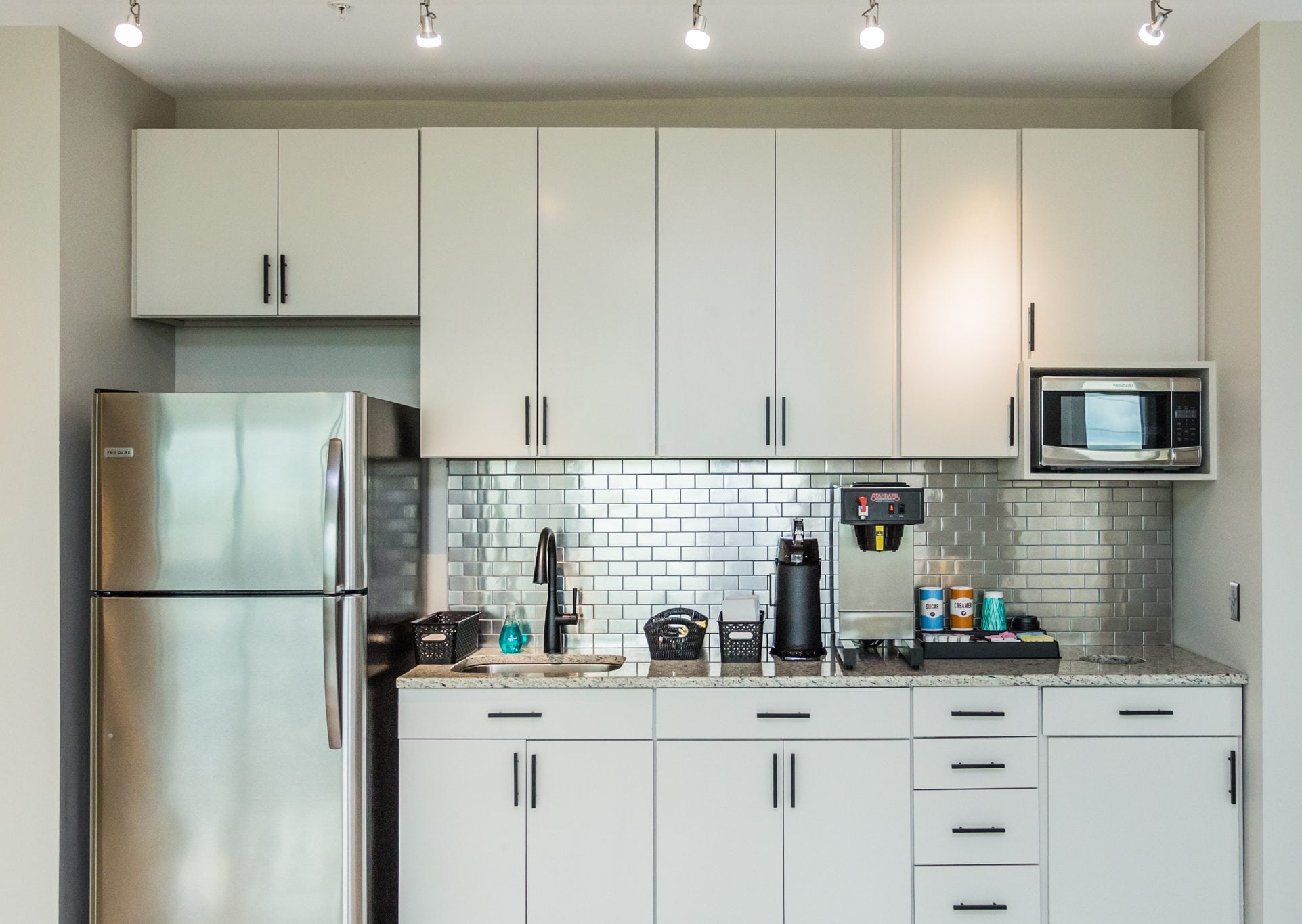 Included Ammenties
Included in your membership is a complimentary use of Beachworx's office pantry, wifi access, printing,* and free parking.
*Restrictions do apply.
Who Does Coworking Serve?
Whether you work for a large company, small company or are self-employed, your office space landscape may have changed over the past few years. Large companies are offering employees remote work options and the hybrid, in-person model is now being deployed in smaller real estate footprints than were previously occupied. Small companies may be seeking alternatives to traditional commercial leases – alternatives that are more flexible and affordable. And the solopreneur may realize the resources and the credibility a professional coworking space can offer.
What Is a Coworking Space in Destin?
A coworking space is a professional environment, open to public users, which offers the usual office amenities in a shared environment.
The best coworking spaces are communities, bringing together a diverse mix of professionals and businesses. Because various businesses in a coworking space are in different stages of the business life cycle, coworking communities naturally support peer mentorship, ideation and trouble shooting. They can become a community to tap for ad hoc research and feedback about your product or service. A coworking community may host potential clients who need your product or service. This community can become a referral funnel if members understand your business and who is your potential client. Collaborators and joint venture partners may even be identified through this network.
What Is Offered in a Coworking Space in Destin
Coworking spaces may offer several amenities and services, either a la carte or as an element of your membership.
Most coworking spaces offer private offices as well as hot desk options. A hot desk may be a cubicle, open bench seating or private workstations that can be designed for work teams or set up for dedicated users.
There are also areas for collaboration, whether that is soft seating, sound-proof pods, high top tables and stools, booths or conference rooms.
Generally, all users are allowed some credits for conference room reservations. Some access memberships will include a professional office address at the facility while, conversely, virtual memberships give users an address with add-on options for infrequently accessing the space – either by the hour for conference room rental or by the day for working in a hot desk.
How Our Destin Coworking Space Worx
When you become a member at Beachworx, your benefits will include:
Member Portal. Build out your business's profile so people can find you in the in the member directory. See availability and reserve conference rooms, update your payment method and download your invoices and receipts.
Digital Marketing. Our members are able to purchase digital advertising on our building's pylon at a fraction of the cost for traditional billboard advertising.
Social Media. Join our social media groups to share news about your business with the community and alumni.  Follow us to receive updates about events, new products and celebrate each other's success.
Amenities. At Beachworx, you will receive complimentary coffee, snacks and filtered water, reliable and fast Wi-Fi, printing and scanning capabilities, and free parking.
Networking. The Hub is where our members love to gather. Whether you are on a lunch break or just want to take a break and grab a snack, The Hub is where you'll get to know your fellow coworking members. Events hosted by Beachworx are held in the hub and are a great way to network with other members and the public.
Meeting spaces. The Harbor Board Room has seating at the table for 10 with an option for an additional 12 around the room. The space is equipped with flatscreen TV compatible with Mac or PC, conference phone, white boards, markers, erasers, and easels. Most access memberships include a few monthly credits for the board room, but it may also be rented by the hour.
Who Is a Good Fit for a Destin Coworking Space?
The flexibility and affordability of coworking makes it attractive to different users for different reasons.
Entrepreneurs & Solopreneurs. Whether you employ a small team that is required to collaborate in person or you're an individual working from home, the coworking alternative supports you with a professional environment that encourages focus and lends credibility to your businesses. It is a space that grows or retracts with your staffing needs.
Freelancers and Digital Nomads. The beauty of our beach town coworking space means you can still work while you're on vacation.
Enterprise Clients. Companies seeking more flexibility and lower costs than traditional leases offer enjoy the coworking model. Executives take private offices and dedicated hot desks can be configured to create a work pod for support staff.
Remote Workers. Wherever your main office is headquartered, coworking spaces allow you the flexibility to work in a distraction free space other than home some or all of the time, meet clients in a professional environment and network with people from outside your industry.
As illustrated here, coworking spaces are a solution for any professional. Schedule a tour of our space and learn about the options we can design to meet your needs.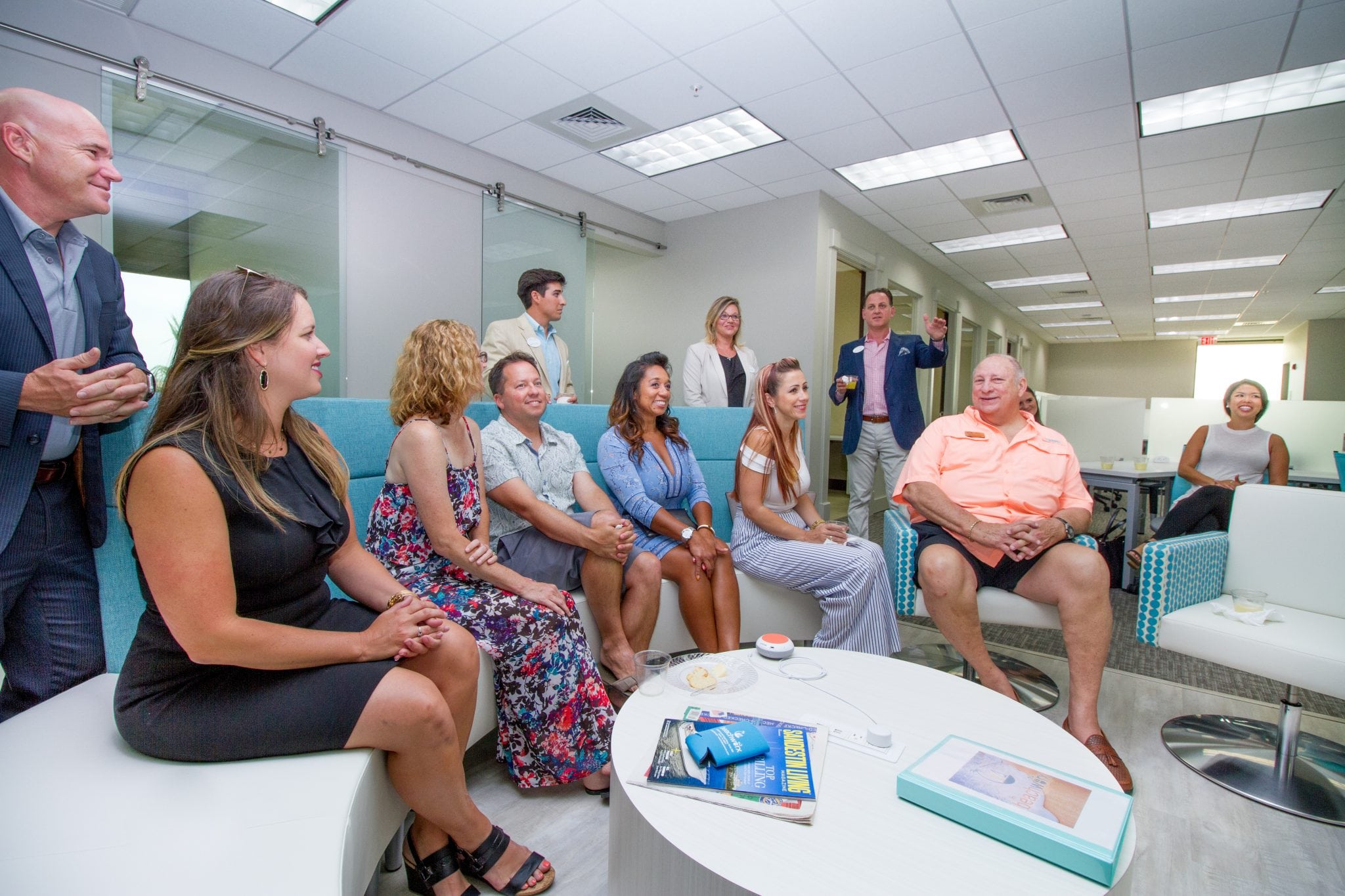 Professional Networking Events
Get exclusive invitation only access to personal and professional networking events in our space from community members and business professionals.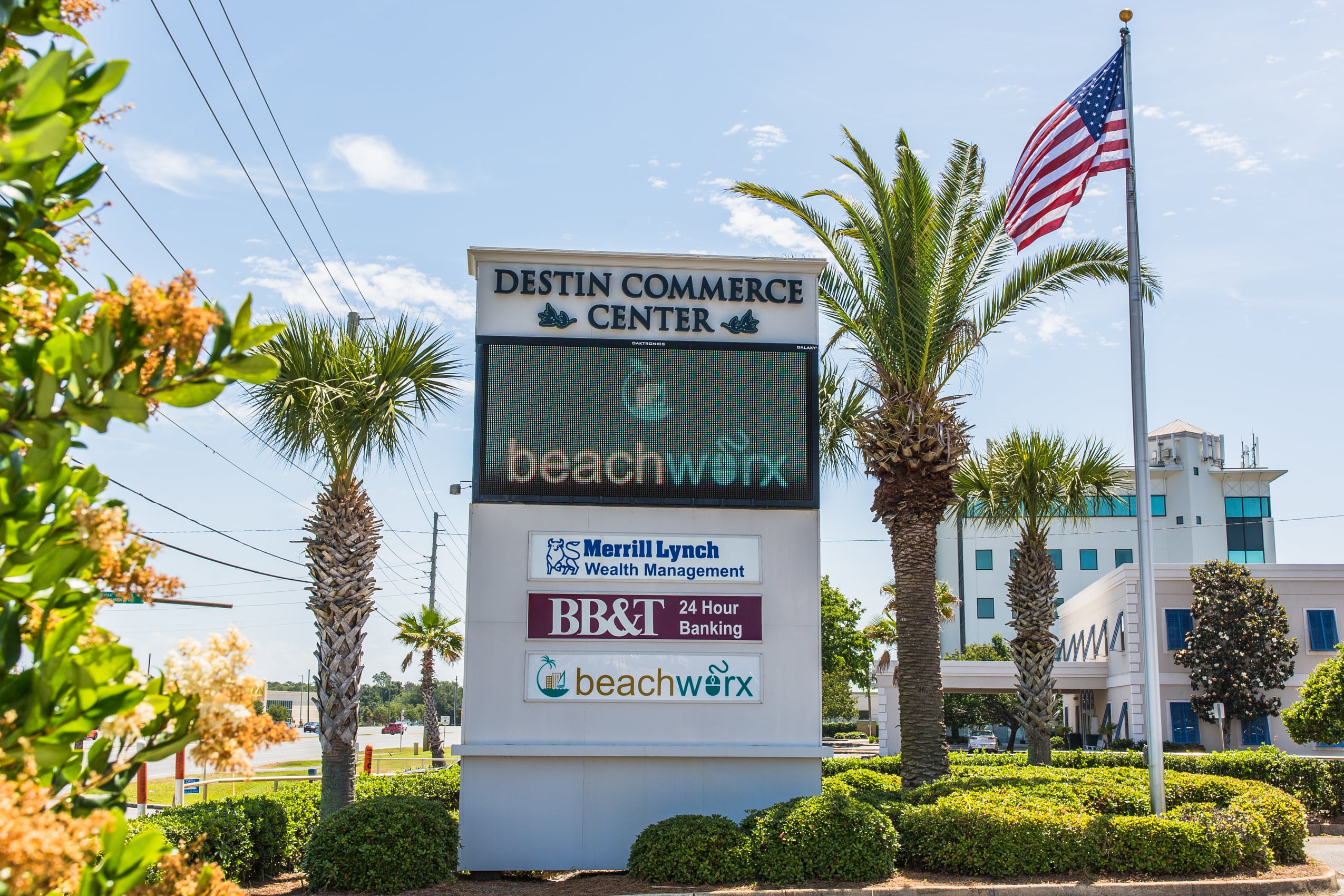 Digital Pylon Advertising
Have your business featured on our digital pylon that displays along Highway 98. At this intersection, the traffic count is an estimated 51,000 cars per day.
Digital Pylon Advertising
Our members get access to a fantastic opportunity to advertise their business on the busiest intersection in Destin. Our digital billboard is seen by an average of over 51,000 cars per day!