Beachworx Operations Manager
The Beachworx Operations Manager is a critical role in the organization, handling a number of administrative and customer service responsibilities.
The person in this role should exhibit the following
knowledge, skills & abilities:
Detail Oriented

– pays close attention to the smallest of details to present complete, accurate information in a professional and helpful manner; takes the time to do the smallest of tasks that help make our space clean, welcoming and organized

Sense of Urgency

-understands that each day brings new challenges and responsibilities and acts with a sense of urgency to address all tasks and complete as many as possible as quickly as possible

Communication

– the operations manager communicates frequently and effectively with all parties involved to keep everyone updated on a task or project; asks questions to seek clarification when necessary

Service Oriented

– is professional, kind and helpful to all customers, internal and external; goes the extra mile to make people's experiences in our space pleasant

Ownership & Accountability

– when a problem is identified, the operations manager takes all necessary steps to resolve the issue to all parties' satisfaction

Organized

– uses the tools provided to maintain organization around schedules, inventory management, deadlines, etc.

Trustworthy

– is honest, can be trusted to keep sensitive information confidential and does not steal, lie or behave in a manner that compromises the business' reputation
General Responsibilities:
Reception
Welcome guests and set them up for their use in the coworking space or meeting space  
Answer inbound calls and provide information about Beachworx's services
Assist new customers with setting up their account in our systems
Accounting
Ensures accounts receivable are processed on a timely basis, resolves in a timely manner outstanding invoices/failed payments for Beachworx
Collaborates with Bookkeeper to confirm payment receipt, record payments, manually creates invoices for particular clients
Understands the payment gateway system, Authorize.net and can troubleshoot, research and resolve issues like refunds, failed credit card payments, etc. 
Assists VP of Operations & CEO in processing accounts payable
Tracks revenue share programs with media partners and processes their payments
Mail
Process all member mail daily
Forward mail twice monthly
Maintain active member list for USPS
Project manage the Piloto Mail implementation when integration with Yardi is ready
Amenities
Maintains inventory of all amenities
Pays vendors & electronically files invoices
Signage
Keeps lobby signage updated with active members (Quarterly)
Upkeep the digital pylon
Collaborate with  advertisers for image specifications
Ensure proper invoicing
Communicate with members to introduce to preferred vendor & ensure window decals meet landlord's specifications
Sell digital signage (incentivized to promote this product)
Marketing
Collaborate with marketing vendor to guide the monthly messaging on social media, promote events
Review blogs and edit, as necessary, to keep messaging consistent & on-point
Attend networking events to promote Beachworx, Rodos Realty Advisors & all our products
Property Management
Projects – Assists in managing maintenance & repair projects; liaise between property team and vendors; updates projects in Trello, project management app
Property walks – ensures property is always clean and presentable 
Inventory – ensure we have on hand a small inventory of light bulbs (correct size and color) for all sconces, can lights, elevator, etc. 
track in operating system the deposit &  issue and return & refund of keys; 
contact vendors to have any new keys issued; 
maintain inventory of building and stairwell sets so there are always at least five sets on hand. 
Storage Facility – serve as point of contact to coordinate property retrieval from and delivery to storage facility
Calendar Management
Maintain calendars for both organizations, create and send invites to all participants, include Google Meet instructions when necessary
Serve as gatekeeper for CEO & VP's calendars
Document Management
Maintain electronic files for all invoices, contracts, etc., and share folders with team.
Scan to whichever folder it was saved:
Payments made (scan check and add to the electronic file
Add any other action required from another organization member to Trello
Update as necessary the password / login spreadsheet
Vendor Management
You will be the first point of contact for regular orders and troubleshooting
Miscellaneous
Assist Vice President of Operations & CEO with other assigned administrative tasks and personal errands, as needed, in support of the property management and real estate divisions of the parent company
Although it cannot anticipate every task that will be the responsibility of the Operations Manager, This job description is intended as a general guide to the daily responsibilities of this role. 
This job is based at:
34990 Emerald Coast Parkway, Destin, Fl 32541
Hours:
Monday – Friday
8 am – 1 pm; possibly grow into a full-time role within 6-12 months.
Occasional evenings and weekends (with advanced notice).
Wage Range:
$16 – 20 / hour, based on experience
This position is eligible for discretionary bonuses based on performance and meeting quarterly goals
Reasonable accommodations will be made for qualified individuals.
Interested applicants should email an updated resume`, cover letter to: 
Vice President of Operations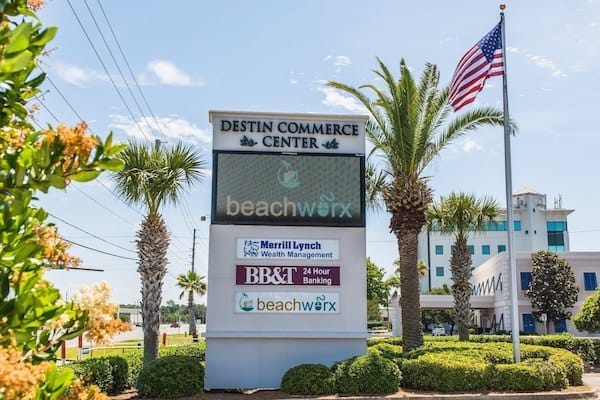 Virtual Business Address
Expand your business presence cost effectively utilizing Beachworx "Class A" virtual business address
Member Spotlight
Get your business featured on our social media channels and our member directory to increase your exposure.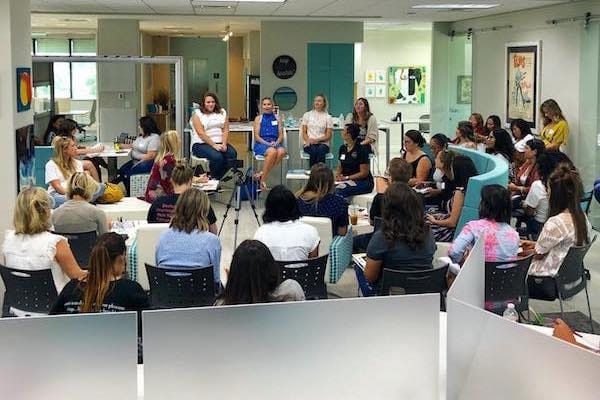 Networking Opportunities
Get exclusive invitation-only access to personal and professional networking events.
Get the Benefits of an Office Without the Cost
With a virtual office, you can still enjoy all the benefits of being a member at Beachworx. Are you local or traveling to the Destin area and need to meet clients? Not a problem, simply schedule use of our conference room. You can also take advantage of our Hotdesks.
Why is a Google verified address important?
Having a Google verified address will help increase awareness for your business.
You tell Google what information to include about your company in the listing.
Customers will be able to leave reviews about your company
Appear in a geographical search
Increase your website SEO by including links within the listing back to your website
What will my address be?
When you sign up, you will be provided a Suite Number to use along with the main Beachworx address. You will be able to receive and send mail out using this address.
What is the Member Spotlight?
Every month we promote Beachworx members in a special post on social media called "Member Spotlight". We will include your logo and information regarding your company and the services you offer.
How can I network with other members?
Once you become a member of Beachworx you will be added to the Member Network. You can reach out to other members, and you will have access to the Beachworx app.
You will also get exclusive invitation only access to personal and professional networking events in our space from community members and business professionals.
Why is a virtual address better than a PO Box or home office?
There are many reasons but here are just a couple:
A P.O. Box can make your business look uncommitted or low-budget. A virtual address gives off the impression of a physical office and can provide a more professional business image.
While P.O. Boxes are more private than a street address, clients could still track down your personal address without permission. A virtual address keeps your privacy secure.
A virtual business address is an affordable option that offers full flexibility, privacy, and credibility so you can focus on higher-value business activities.
Digital Pylon Advertising
Our members get access to a fantastic opportunity to advertise their business on the busiest intersection in Destin. Our digital billboard is seen by an average of over 51,000 cars per day!